Elektra OPEX Call Management transfers guest requests, malfunctions, complaints to employees through smart phones and tablets. Employees in the field receive information about operations instantly. They can transmit malfunctions and the problems they have fixed. They can also keep track of the task they have to do in the following days.
 Elektra OPEX Business Intelligence 
– Transfers request automatically by mobile device,sms and mail
DOES NOT REQUIRE AN ORDER TAKER
 -It assigns an employee from the relevant department for the required task.
-It transfers work to the person with a smaller work load working on the same shift.
---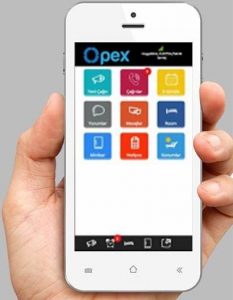 Elektra OPEX Mobile Application
It follows the latest technological and social developments.
– Utilises the latest web and mobile technology.
– Does not utilise old desk-bound techniques.
– The application knows that its users are mobile, use smart phones and tablets for work.
Elektra OPEX Automatic Briefing
– Informs you of things not going right.
– Does not require old methods such as telephones or e-mail, the system makes the appropriate warnings itself.

Front Office Integration
Front office can automatically sends information about check-in, check-out, and room changes to the appropriate departments. Bellboys collect suitcases, minibars are checked, and room service cleans the room as check-out preparations. This way phone calls are unnecessary, work orders are offered immediately.jobs sent from the Front Office can be monitored from the message screen.